Judge agrees Aberdeen bypass appeal costs will be met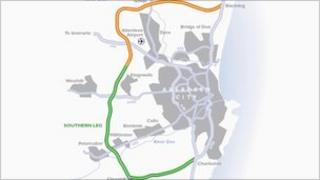 An appeal by a campaigner opposed to the Aberdeen bypass will go ahead, after it was agreed his costs would be covered, win or lose.
Protest group Road Sense has rejected a Court of Session judgement approving the route.
Group member William Walton lodged a fresh legal bid to block construction of the £400m road. Many business leaders in the area support the scheme.
The appeal hearing will take place in December.
At a Court of Session hearing to determine costs, a judge voiced his disapproval of the First Minister Alex Salmond's criticism of campaigner Mr Walton, who, he was quoted as saying, was holding Scotland to ransom.
The bypass was originally given the go-ahead by Scottish ministers in December 2009.
Environmental impact
A judge previously ruled there were no grounds to overturn the decision to allow the 28-mile Aberdeen Western Peripheral Route (AWPR) to go ahead.
An online petition against the Road Sense objection has attracted more than 14,000 signatures.
Opponents have criticised the cost and environmental impact of the plan.
Environment and sustainable transport charities welcomed the news that Mr Walton's legal costs will be capped, allowing his appeal to go ahead.
Stan Blackley, chief executive of Friends of the Earth Scotland, said: "The legal representatives of both Mr Walton and the Scottish government are to be praised for reaching such a progressive understanding.
"Mr Walton is just practising his democratic right to challenge an environmentally damaging decision through the courts.
"This agreement to limit his costs sets an important precedent in allowing affordable access to justice for someone who has put their livelihood at risk to act in the public interest."