Concern over 'disgraceful' Aberdeen fly-tipping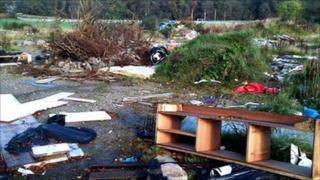 Fly-tippers in Aberdeen are putting children and animals at risk by dumping rubbish, it has been claimed.
Residents in the Woodside area told BBC Scotland ground near the River Don used by families and dog walkers, and home to wildlife, has been ruined.
Local resident Jenny Stephen, who is calling for a clean-up and fines, said: "I think it's a disgrace."
And Thomas Timms, who walks his dogs to the area, said: "It's a fire waiting to happen."
'Not healthy'
They said mattresses, tyres and general rubbish were among the items often dumped.
Mr Timms said: "It's very very unsightly and not healthy."
He said it could be a "gorgeous" spot, home to deer, badgers and sometimes otters
Mr Timms added: "We have been threatened when complaining here. They [fly-tippers] will get violent and verbally abusive."
'Zero tolerance'
A spokeswoman for Aberdeen City Council said clearing litter costs it more than £4m each year.
She said: "Littering and side waste is a common complaint from residents, elected members and other members of our communities.
"Aberdeen City Council operates a zero tolerance policy and litter offenders will be issued a Fixed Penalty Notice (FPN) - they will not be given an opportunity to pick up dropped litter rather than receiving the fine."