Scottish patrols stepped up over mackerel dispute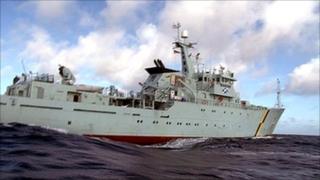 Patrols of the sea border half way between Scotland and the Faroe Islands are being stepped up because of concerns about foreign vessels fishing illegally for mackerel.
Spotter planes and ships from Marine Scotland are making regular patrols of the stretch of water, up to 180 miles north of the Shetland Islands.
The concern is that Faroese fishermen, who are now banned from entering Scotland's waters, will follow the migrating mackerel south.
The stock has been at the centre of an international dispute for more than a year since Iceland and the Faroe Islands announced they were to significantly increase the amount of mackerel caught.
That row led to Scottish fishermen blockading Peterhead harbour to prevent a Faroese ship landing its load.
Two planes based at Inverness Airport are regularly visiting the median line, where they drop to a height of 150ft above sea level.
Photographs and registration details are taken from any boats in the area and checked against a database.
Aircraft pilot, Captain George Jack, told BBC Scotland: "There's a significant difference in the size of the fishing vessels we look at, anything from small creel boats six to eight metres up to the very large foreign pelagic vessels up to about 100m long.
"Scottish vessels tend to be 60-70m and the smaller the vessel the closer we need to go to see what they are doing."
Of all the EU member nations, Scotland has the largest sea area to manage and one of the larger ships can catch up to £4m of mackerel in a single trip.
During a five-hour flight across hundreds of miles, several dozen registration details are taken for Scottish, English, Dutch and Norwegian vessels.
'Tough action'
Two fisheries patrol ships have also been taking part in the operation over the past few weeks.
Officers on board carry warrants which allow them to board, search and carry out checks on any vessel in Scotland's waters.
Captain Archie MacCallum, commanding officer of FPV Hirta, said: "As the fish move from the Faroes into Scottish waters, they might be tempted to cross the line, especially in the dark perhaps.
"We've been patrolling up and down there and we can see on satellite beacons whereabouts these vessels are so we have kept a very close eye on them this year."
Protecting the mackerel stock is one of the priorities for the Scottish government, which oversees the patrols.
Scottish Fisheries Secretary Richard Lochhead said: "We're not going to stand by and just let them get up to what they want to get up to, we're going to make sure they don't come over that line into Scottish waters.
"Not only that, we're asking the European Commission to take tough action; Europe's always quick enough to act against European fishermen that are seen to be acting irresponsibly and it's only right that we get sanctions that have been promised against Iceland and the Faroes."