Concern over latest European Commission fishing plans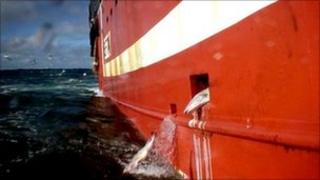 European proposals for catching limits next year could lead to more healthy fish having to be discarded, it has been claimed.
European Commission proposals for stock management include cuts to many species and a complete ban on fishing for cod in areas, including off the west coast.
Bertie Armstrong, chief executive of the Scottish Fishermen's Federation, expressed disappointment.
Scottish Fisheries Secretary Richard Lochead said crews were being punished.
Mr Armstrong said: "We share with the European Commission the aims of sustainable food production from the sea.
"Unfortunately, this first set of proposals represents yet another huge missed opportunity by the European Commission.
"We had hoped that with the Scottish fleet's record of discard reduction and stock conservation that a more intelligent approach to fisheries management would have been adopted by the EC this year.
"Unfortunately, we have another dose of the same old medicine."
'Consistent approach'
Mr Lochhead said: "We're committed to safeguarding our valuable fish stocks and helping them to recover.
"I am calling on the commission to adopt a consistent approach to implementing scientific advice to ensure a fair deal for our fishermen and continue the important stock conservation work which is already under way.
"The evidence shows that the haddock stock can now support a targeted fishery, and the marked improvement in the state of the stock also means that the catch-composition rules are no longer appropriate for west of Scotland haddock and will only increase discards further."