Richard Shucksmith shot of jellyfish lands wildlife win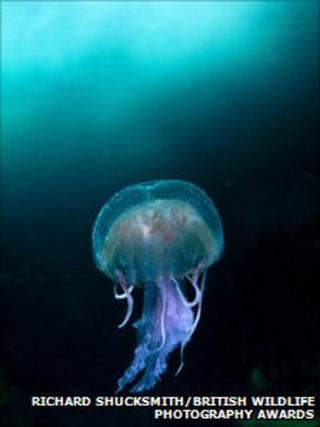 A Shetland photographer's picture of a jellyfish has won a major prize.
Richard Shucksmith's "Jellyfish in the Blue Sea of Sula Sgier" won the top honour at the British Wildlife Photography Awards.
It was taken at Sula Sgeir, a small island north of Lewis, and secured the £5,000 first prize.
Judge Greg Armfield, photography and film manager from the WWF, said it was a "truly beautiful shot" taken in UK waters.
He said it perfectly captured "iridescent colours and magical qualities".
Fellow judge Paul Wilkinson said: "We are delighted to see how many people from around the UK were inspired by the competition to explore nature in their local area.
"This year's entries reflected a real passion, and affection, for local wildlife. This competition is a special opportunity to give the natural world that surrounds us the recognition, and reverence, it deserves."
The wildlife photography awards are now in their third year.