Gay minister Scott Rennie says marriage is evolving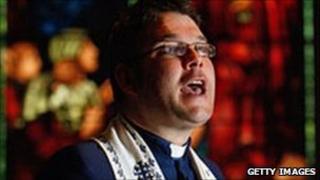 Scotland's first openly gay minister has questioned claims that legalising gay marriage would have huge social implications.
Reverend Scott Rennie, of Aberdeen's Queen's Cross Church, told the BBC that in 100 years no-one would see what the fuss was about.
The Scottish government is currently holding a consultation on whether same sex marriage should be legalised.
However, Mr Rennie said marriage had always been an evolving institution.
He said he failed to see how two people of the same gender sharing love was any different from a man and a woman sharing the same.
Mr Rennie was appointed at Queen's Cross Church in 2009.
The Kirk's General Assembly voted in May to allow the induction of some gay ministers.