NHS Orkney cuts out paper in favour of iPads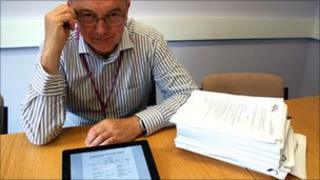 NHS Orkney has introduced iPads to replace paper at board meetings in a bid to save money.
The move is expected to save the board about £28,000 a year in printing and associated costs.
Chairman John Ross Scott said: "In my view we need now to spread the initiative down through the organisation."
He added he believed NHS Orkney was the first public body in Scotland to follow such a "paper light" approach.