New £57m University of Aberdeen library opens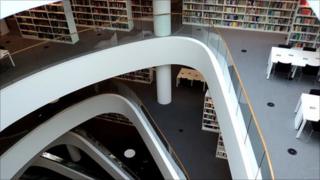 The University of Aberdeen's new £57m library has opened for business.
Construction on the building, which will replace the university's ageing Queen Mother Library, began in 2009.
It opened to the local community as well as students from 11:00 on Monday but will not be officially opened until next year.
The new library will house collections of historically-important books and archives.
Prof Ian Diamond, principal and vice-chancellor of the University of Aberdeen, said: "The opening of the new library marks a new era at the university, providing an unrivalled learning environment for our students and staff, and one we are delighted to share with the communities of our region.
"This is an outstanding facility of which we can all be very proud. It will serve the needs and ambitions of our university, city and region for many decades to come."