Malcolm Webster case: Victim headstone removed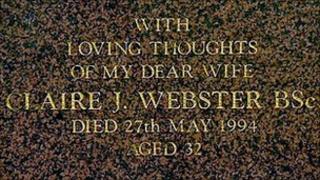 The headstone of a woman murdered by her husband has been removed after a campaign by her family.
Malcolm Webster, of Surrey, was jailed for a minimum of 30 years in July for murdering Claire Morris in Aberdeenshire in 1994.
Relatives want to replace her headstone in Tarves, which still had her married name and refers to a "dear wife".
Aberdeenshire Council said it was an emotional case. Relatives expressed delight.
The victim's brother, Peter Morris, told the BBC Scotland news website: "It is fantastic news, I am absolutely delighted.
"The headstone was a lie and a monstrosity.
"It's not the end of the line, we need a new memorial, but it's an encouraging first step."
The local authority's head of legal and governance, Karen Wiles, said: "We appreciate the strong feelings of Ms Morris' family and the wider public mood about this issue.
"Having considered very carefully all the legal implications we believe that, given Mr Webster's criminal conviction, it is appropriate for us to remove the headstone and place it in secure storage.
"We have written to Mr Webster's lawyer asking him to relinquish his position as lairholder and have received a response declining this request. We will be writing once again to advise them of the action we have now taken.
"We are keen to alleviate any further distress to the Morris family, but it is entirely appropriate that we consider our position very carefully before taking any action."
Former nurse Webster, of Guildford, was found guilty of murdering 32-year-old Ms Morris - originally from Upchurch in Kent - in a staged car crash in 1994.
The fatal crash was originally treated as an accident. Webster said he had swerved to avoid a motorcyclist.
However, the crash was reinvestigated after concerns were raised in the wake of a second crash in New Zealand in 1999.
New tests showed Ms Morris had traces of drugs in her system.
Webster was also convicted of trying to murder his second wife, Felicity Drumm, in Auckland.
He was found guilty after a long-running trial at the High Court in Glasgow.
Webster was also found guilty of intending to bigamously marry another woman, Simone Banarjee, from Oban, Argyll, to gain access to her estate, while pretending he had leukaemia.
The crimes were committed as part of a plot to claim almost £1m in life assurance money.
BBC Scotland later revealed Webster is set to appeal.