University of Aberdeen agrees £9,000 fees for non-Scots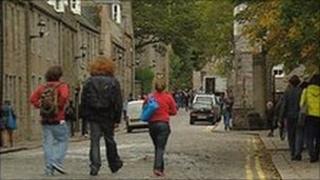 The University of Aberdeen has become the first in Scotland to adopt greatly increased fees for students from England and the rest of the UK.
Its governing body has opted for a five-fold rise in the charges.
Students will face charges of £9,000 for all subjects for each year of study from next year.
However, there will be special discounts to cap the total bill for the four-year courses at £27,000 - one year free for paying for three.
University leaders opted for annual fees of £9,000, the maximum announced by the Scottish government in June.
It is well above the present level of £1,800 for most degrees, and £2,800 for medicine.
The university said it expected a healthy demand.
Principal and vice-chancellor of the University of Aberdeen, Prof Ian Diamond, said: "As Scotland's third oldest university, and the fifth most ancient in the UK, the University of Aberdeen has a long track record as a destination of choice for students from other parts of the UK.
"Maintaining a fee at the current level for students from the rest of the UK is no longer an option."
He added: "It is important that able students from every part of the UK, including Scotland, can study at Scotland's great universities, whatever their background, and we will continue to offer an extensive range of bursaries and scholarships for all students.
"We believe that today's decision will enable the University of Aberdeen to continue to deliver first rate education and internationally recognised research and to further develop its ability to attract world-class scholars."
The National Union of Students said it recognised the case for raising fees to prevent Scottish campuses becoming a cheap option.
However, it believes education should always be free.
Drop in demand
Robin Parker, president of NUS Scotland, said: "We fully reject any increase in fees but this is a disastrous decision.
"It's urgent that students get clarity about what bursaries will be available to protect fair access.
"Unless the university comes forward with a strong bursary package, students from the rest of the UK will be paying more for a degree than at Oxford or Cambridge University.
"This is nothing more than cashing in on students from the rest of the UK."
There has been widespread criticism of debt levels for students and because of a potential drop in demand.
Earlier this year it emerged there had already been a slump of 8.3% in the number of English students applying for places in Scotland.
The University and College Union (UCU) said it was disappointed with the move by Aberdeen University.
Mary Senior from the UCU said: "Our worst fears that some Scottish universities will ignore the minister and charge the highest possible fee are already coming to fruition."