Shop worker in Stonehaven stung by scorpion in bananas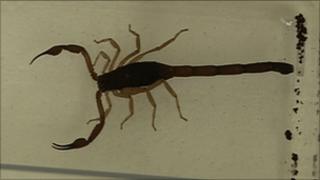 An Aberdeenshire shop worker has been treated in hospital after being stung by a scorpion.
William Clarke, 48, was unpacking a box of Colombian bananas at Farmfoods in Stonehaven on Monday afternoon when the incident happened.
He is recovering at home after a night in hospital. The creature has been moved to a Scottish SPCA rescue centre.
Mr Clarke told BBC Scotland he was quite scared by the experience as he knows scorpions can be deadly.
He said: "I was just getting ready to finish my shift when I noticed there were no bananas on the shop floor so I went to get a box.
"I went to take the lid off and got a really sharp stinging pain in my finger.
"At first I thought it was just a centipede but when I moved back the bananas and the cardboard I saw there was actually a scorpion in the bottom of the box."
Nasty sting
He caught the creature in a coffee jar and took it with him to Kincardine Community hospital to show staff there what had happened to him.
He was transferred to the Aberdeen Royal Infirmary and monitored overnight.
Chf Insp John Carle said that in 26 years in the job it was the first time he had dealt with a scorpion.
He said the SSPCA were still trying to determine how dangerous the animal was.
He added: "It's not deadly but it would certainly give you a sting or a bite that would be the equivalent to a very nasty bee sting.
"Staff that are handling it at our centre have got to be very careful until we get a positive identification."