RMT union warning over Northern Isles ferries tender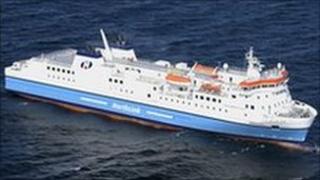 A union has raised concerns about the potential "break-up" of ferry routes to the Northern Isles.
Ministers are considering offering the Pentland Firth crossing as a separate tender.
The route is currently part of a single package run by NorthLink Ferries whose six-year contract runs out next June.
The RMT said it fears operators will be able to cherry-pick the more lucrative services under the forthcoming Scottish government tendering process.
NorthLink runs ferry services between Aberdeen, Kirkwall and Lerwick and between Scrabster and Stromness.
RMT general secretary Bob Crow said his members were notified of the plan to "break up" the single package of routes before an expected announcement by government agency Transport Scotland.
He said: "This proposal is a kick in the teeth for both staff and the communities who rely on the northern ferries operations.
"It flies in the face of public opinion which is wholly against the break-up and exploitation of these lifeline services.
"We will fight this stitch-up by the Scottish government which would open the door to cherry-picking and profiteering rather than seeing the Scottish ferries as the essential integrated public service that they are.
He added: "Jobs will be threatened and communities thrown into turmoil if this ill-conceived decision isn't reversed."
Transport Scotland said the proposal to tender in two lots was explored in a consultation last year.
Profitable routes
About three-quarters of the 388 respondents were in favour of maintaining the single package.
In an analysis of the responses earlier this year, concerns were raised that operators would prefer to run more profitable routes at the expense of other services.
A spokesman for the agency said: "As part of the ferries review, we are considering the different ways in which ferry services can be delivered.
"One such option is to remove some routes from the current single bundle and tender them separately. One of the routes considered is that across the Pentland Firth.
"Therefore, in the forthcoming tender for subsidised ferry services to the Northern Isles, Scottish ministers have decided that the tender will be divided into two lots, allowing bidders to tender for each of the routes separately."
A new, tendered, contract for all routes requires to be put in place from July 2012.