Wind farm project application for Aberdeen Bay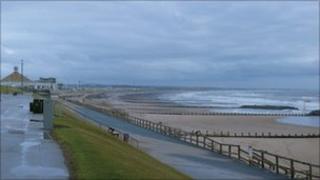 An application has been lodged to build a wind farm project off the coast of Aberdeen.
Aberdeen bay would be the location for 11 next generation turbines.
The application is being made by the Aberdeen Renewable Energy Group (AREG) in cooperation with two other companies, Vattenfall and Technip.
In the past Donald Trump raised concerns that they would spoil the view of golfers on his new course north of the city.
Mr Trump's representative George Sorial has reiterated that the Trump Organisation would fight the plan using any available legal means.
AREG says its continuing to speak to the Trump Organisation about its concerns.
It is six years since the idea of a wind farm was first mooted in the waters off Aberdeen.
The consortium says 11 next generation wind turbines would be constructed as a testing ground for future developments and the project would be called the European Offshore Wind Deployment Centre (EOWDC).
It is expected it would create jobs and economic benefit by attracting scientists, researchers, engineers, offshore wind supply chain companies.
Morag McCorkindale, chief operating officer at AREG, said: "As Europe's energy capital, Aberdeen city and shire is the ideal location for the EOWDC.
"The region has an offshore oil and gas supply chain unrivalled in the eastern hemisphere and therefore has the highest concentration of energy expertise, experience, skills and technology.
"This industrial-scale know-how is crucial to the development of marine renewables, and in the short-term particularly, offshore wind."