Sea Shepherd pays for ship's release from Lerwick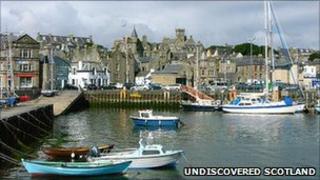 A marine conservation group has been ordered to pay £520,000 in security to have its ship released from Lerwick harbour in Shetland.
Sea Shepherd's vessel, known as the Steve Irwin, was detained two weeks ago on its way to interrupt a pilot-whale kill in Faroe.
A Maltese aquaculture firm raised an action for damages against the group at the Court of Session in Edinburgh.
The ship's captain told BBC Scotland the security money had now been paid.
Paul Watson said the boat should be free to leave Lerwick on Wednesday.
Aquaculture company Fish & Fish is seeking 760,000 euros after claiming it lost about 600 valuable bluefin tuna when divers from the Steve Irwin tore open netting and released the fish into the sea in June last year.
Security bond
Following the decision to detain the Steve Irwin, conservation charity Sea Shepherd UK sought to have the order recalled but the move was rejected last week by Lord Emslie.
When the case came back before Lady Stacey at the Court of Session in Edinburgh, Roy Martin QC, for the charity, asked her to fix security at £400,000 to release the ship from the arrestment so that it could sail.
He said it had been valued at £350,000 to £400,000 and argued that the sum offered as a bond was reasonable.
But Robert Howie QC, for Fish & Fish, maintained that "a significantly larger sum" should be fixed as security.
Captain of the vessel, Mr Watson, said: "I am quite confident we will get our bond back.
"It is just one of those inconveniences. We have learned how to deal with inconveniences over the years and just weather them."