Crime levels dropping in Aberdeen city centre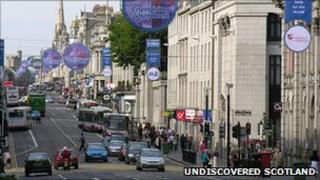 Crime levels in Aberdeen city centre are falling, according to new figures from Grampian Police.
The number of serious assaults reported dropped to a six-year low, falling by 46% since 2007.
Incidents of vandalism and shoplifting were also down, with increased detection rates for these crimes.
The force said it was winning the war on crime by working in partnership with the business community, retailers, pubs and clubs.
The latest statistics also showed that complaints regarding breach of peace in the city centre had fallen by 269 (15%) from the previous year.
Aberdeen Divisional Commander Ch Supt Adrian Watson said the city centre was now "one of the safest in the country".
He said: "Of course it is pleasing to see that the detection rates continue to improve and reported crime is reducing.
"This has not been easy and I am not naive enough to think that there are not still challenges out there.
"However, we have looked at city centre policing models and good practice from across the country and we looked to adopt 'what works', which to my mind has significantly contributed to the turn around."
Street pastors
He added: "This has not been achieved in isolation and we have worked tirelessly with the business community, be it the retailers from the daytime economy or the licensed pubs and clubs through the evening.
"We should not overlook the support we have had from the city council, for instance, through the taxi marshals and of course we are complemented greatly by the sterling efforts of our street pastors, which is one of the largest programmes of its kind in the United Kingdom."
Figures released earlier this year revealed that violence had fallen throughout the region by 20% and anti-social behaviour by 35% - a trend that had been reflected in the city centre.