Sat nav shows seabirds 'travelling further for food'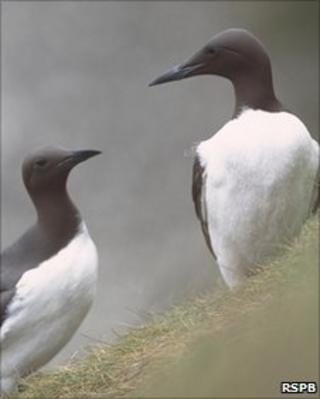 Seabirds are flying much further for food than previously thought, RSPB Scotland has said.
Tiny trackers using technology similar to car sat nav systems are following guillemots, kittiwakes and other species.
Data showed one guillemot from Fair Isle, between Orkney and Shetland, travelled as far south as the waters off Dundee, rather than close to home.
The project is called Future of the Atlantic Marine Environment (Fame).
RSPB Scotland said the initial data came as early reports of seabird breeding performance on reserves in the northern isles of Orkney and Shetland indicated continuing problems.
RSPB Scotland seabird policy officer Rory Crawford said: "Although it is still early days for this project, we are already seeing some fascinating outcomes.
"While some birds are displaying what we think of as more characteristic feeding habits - staying nearer their colonies to feed during the breeding season - other birds are travelling huge distances in search of food.
"By carrying out this tracking work, we hope to discover whether birds having to travel further to find food is contributing to the dramatic declines we've seen."
He added: "What is most important is that this information is used to improve conservation measures for our seabird colonies."