Donald Trump wants Connery and Salmond for golf opening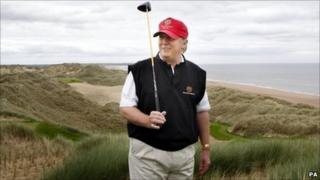 US tycoon Donald Trump has flown into Aberdeen to oversee progress on his new golf course development.
Mr Trump said after his arrival that he wanted the course to be opened by Sir Sean Connery and First Minister Alex Salmond.
The businessman is expected to spend a number of days at the Menie Estate after jetting in on his private plane.
The development, which is being built on a site of special scientific interest, remains controversial.
It is expected to be open by 1 July next year.
Mr Trump said people all over the world were looking forward to the course opening.
All 18 tees have now been shaped and turfed at the championship golf course, where work began more than a year ago.
A handful of local residents, who had been threatened with compulsory purchase orders, have been told by the Trump Organisation that it is no longer interested in buying their homes.
Documentary criticised
Despite that move, protests - led by the Tripping Up Trump campaign group - have been continuing.
The total cost of the project, north of Aberdeen, is likely to be about £750m.
As well as a championship golf course, the development includes a 450-room hotel, 950 holiday apartments and 500 residential homes.
The development has been in the news again in recent weeks due to a documentary.
You've Been Trumped is the work of two film-makers who spent a year following the story.
Trump International Scotland criticised the production.