Aberdeen church could 'break away' over gay ministers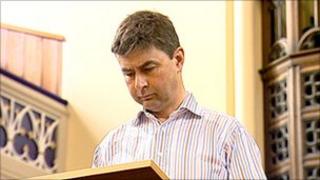 An Aberdeen church is expected to break away from the Church of Scotland following the decision to allow the appointment of gay ministers.
Gilcomston South Church in Union Street will formally vote on the issue at a later date.
The Kirk's General Assembly last month voted to allow the induction of some gay ministers.
The Church of Scotland said it was disappointing any congregation would feel the need to leave.
The row began with the appointment of gay minister Scott Rennie at Aberdeen's Queen's Cross Church in 2009.
Gilcomston South's minister Reverend Dominic Smart told BBC Scotland: "The thing we disagree with is the way in which the Bible seems to have been marginalised."
He added in a statement: "Our decision is not a knee-jerk reaction. It is the culmination of careful study, sincere discussion and prayer over the past two-and-a-half years.
"We have weighed up many different options and believe the decision we have reached has the most integrity.
"Our decision comes from a view shared by most Christians."
A Church of Scotland spokesman said: "We have not received any official notification from the congregation that they are seceding from the Church of Scotland.
"We have already recognised that the decision taken by the General Assembly will have caused hurt to some people within the church.
"It is disappointing that any congregation would feel the need to leave the church when no final decisions have been taken, and the church has agreed to hold more dialogue on this issue leading to a further report which will not be heard until 2013."
One in five members of Kirk sessions have said they would leave if it was agreed that gay ministers can be ordained, while one in 10 have said they would leave if the Kirk ruled they could not be ordained.
Stonewall Scotland welcomed the General Assembly's decision to allow gay and lesbian ministers.
Mr Rennie, a divorced father, was minister at Brechin Cathedral before being appointed to Queen's Cross.
Some sections of the Church of Scotland feared Mr Rennie's appointment could cause the greatest divide since the Disruption of 1843, when part of the Kirk broke away to form the Free Kirk.
Mr Rennie was backed by the majority of the congregation at Queen's Cross Church.
Gilcomston South, at the centre of the latest twist, has a congregation of about 400.