Elgin golfer scores hole-in-one twice in one round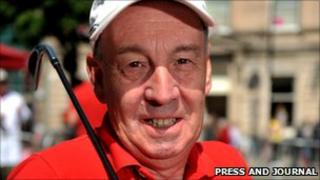 A golfer has defied estimated odds of 67 million-to-one to score two holes-in-one in the same round.
Rob Tyson, 67, of Elgin, Moray, used his six iron to score his first ace on the fourth hole, then took nine shots on the next due to the excitement.
However, he more than made up for the blip when he used the six iron again for another hole-in-one on the seventh.
He said: "I've been playing golf for 35 years and have never had a hole in one."
Mr Tyson added of the feat at Elgin Golf Club: "Now when one comes along, three holes later I get another one as well."