Defence Secretary hints RAF Lossiemouth could be spared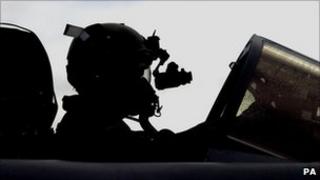 Defence Secretary Liam Fox has hinted RAF Lossiemouth could be spared in the latest defence cuts.
The RAF is to leave Kinloss, in Moray, with the future of of bases in Lossiemouth, also in Moray and Leuchars, in Fife, uncertain.
Mr Fox told Westminster's Scottish Affairs Committee he was aware of the economic consequences for Moray, if two bases were to go.
Final decisions on the future of the bases will be revealed soon.
The UK government decided to scrap the fleet of new Nimrod spy planes at Kinloss before they had even entered service.
And the three flying squadrons based there were officially disbanded last month.
Mr Fox told MPs a final decision would come in the summer, but added: "I don't think you need to be an economic expert to understand the implications of the local economy in Moray, were two bases to disappear.
"So we are aware of that. It is a very complex set of issues to be juggling with."
Local campaigns have been launched to fight the threat of closure of Leuchars and Lossiemouth, while the Scottish government says Scotland has already suffered more than its fair share of military spending cuts.
Scottish Secretary Michael Moore has also been gathering evidence on the effect of base closures on the Moray economy.