Peregrine falcon shot in Ballater has to be destroyed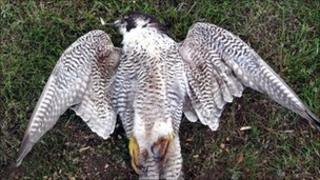 Police have appealed for information after a shot peregrine falcon had to be destroyed.
The protected bird was found badly injured in woodland in the Ballater area by a dog walker.
Tests showed the peregrine falcon had been wounded by a shotgun, with the pellets causing a serious fracture to the bird's right leg.
Grampian Police wildlife crime officer Dave MacKinnon said: "It is an absolute disgrace."