Orkney yacht rescue team brave volcanic ash cloud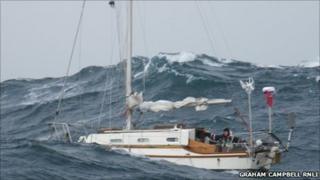 A helicopter rescue crew from Shetland has braved the volcanic ash cloud to come to the aid of a stricken yacht 25 miles off the coast of Orkney.
The emergency happened after the 25ft (7.6m) yacht - the Black Sheep - got into difficulty in 50mph winds and high seas in the early hours of Tuesday.
A personal locator used by the yacht's skipper was picked up by Shetland Coastguard at about 0400 BST.
The helicopter was later grounded to clean ash from its engine.
It is understood the yachtsman was en route to Faroe when his vessel's autopilot broke down and he became exhausted.
A spokesman for Shetland Coastguard said the helicopter was able to track the vessel until Kirkwall lifeboat team arrived at the scene.
The Black Sheep was towed back to Westray by the lifeboat.
When the helicopter returned to Sumburgh it was taken out of service so ash could be cleaned from its airframe and engine.
Aircraft have been urged not to fly until further notice by the Civil Aviation Authority following the eruption of the Grimsvotn volcano in Vatnajokull National Park in Iceland.