Work starts on £60m Strathspey 'whisky' biomass plant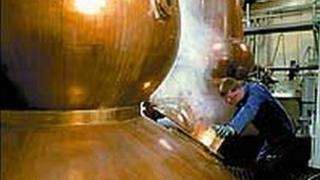 Construction is due to begin on a £60m biomass plant that will use whisky by-products to produce energy.
The combined heat and power plant by Helius CoRDe at Rothes, in Moray, could generate enough electricity to power 9,000 homes and produce animal feed.
The construction project will create about 100 jobs and 20 full-time posts when the plant becomes operational in 2013.
The whisky biomass plant is believed to be the first of its kind in the world.
Helius CoRDe said it would produce 7.2 megawatts of electricity - mostly for export to the national grid - and would save 46,642 tonnes of CO2 emissions per year.
Frank Burns, managing director of Helius CoRDe, said: "This innovative project demonstrates how Scotch whisky by-products can be put to good use to provide a big boost to the environment and ensure there are new sources of energy available for future generations.
"It also shows distillers working together, and in partnership with third-party expertise, for the future benefit of the entire industry."
In 2009, the Scotch whisky industry introduced its environment strategy to assure that 20% of its primary energy requirements would be derived from non-fossil fuel sources by 2020, with a target of 80% by 2050.
Gavin Hewitt, chief executive of the Scotch Whisky Association (SWA), said: "This project underlines the Scotch whisky industry's commitment to investing in the future.
"In 2009 the industry made a commitment to reduce its reliance on fossil fuels as a source of energy.
"The project shows how we can create a virtuous circle within the Scotch whisky production process."