Malcolm Webster trial: 'A thief and philanderer'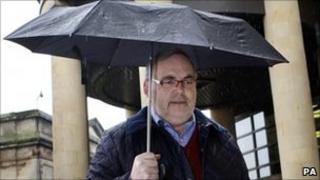 A man accused of murdering his first wife in a car fire and attempting to kill his second is a "thief, liar and philanderer", his defence counsel said.
Malcolm Webster, 52, denies murdering Claire Morris in an Aberdeenshire crash in 1994 for a life insurance payout.
Mr Webster, of Surrey, also denies attempting to kill Felicity Drumm in New Zealand in 1999.
Defence counsel Edgar Prais QC told the High Court in Glasgow that Mr Webster was not a murderer.
Mr Webster, of Guildford, also denies intending to bigamously marry Simone Banarjee, from Oban, Argyll, to gain access to her estate.
Mr Prais told the jury in his closing speech: "He is a liar, he is a thief, he is a philanderer.
"He is all those things."
He said Mr Webster fitted those categories "shamefacedly but admittedly".
Mr Prais pointed at Mr Webster in the dock and told the jury: "You would be right to conclude that a woman, any woman, would have to be nuts to give her heart or her money to that man."
'A rat bag'
He added: "Equally, you should arrive at the conclusion on the evidence, however much off a rat bag he might been, he is not a murderer or even an attempted murderer."
Mr Prais said there was no evidence led by the Crown to show that the Diahatsu Sportrak in which Claire Morris died had been deliberately set on fire.
Mr Prais told the jurors it was a case of "compare the witnesses dot com" and "compare the statements dot com".
He said: "You have got to be careful. You have got to look at things very, very carefully.
"This is not a case about property. This is not a case about pounds and pence or New Zealand dollars and cents.
"This is a case about life and death.
"You don't say Claire died such a God-awful death and somebody's got to pay for it."
Judge's charge
Judge Lord Bannatyne then began his charge to the jury.
He said: "You are all sole judges of the facts. It is up to you to decide which witnesses are reliable and which of the evidence put before you you believe."
Lord Bannatyne is expected to continue his charge on Wednesday, before then sending the jury out to begin their deliberations.
The trial began on 1 February.