Concern over offshore helicopter government tax plan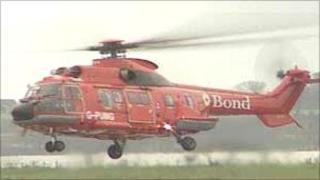 The oil and gas industry has raised concerns about the impact of a potential change to air passenger duty.
The UK government has launched a consultation into the proposals, which could see companies taxed for using helicopters to fly workers offshore.
It is claimed that putting helicopters in the same tax bracket as private jets could cost firms about £165m annually.
Industry body Oil and Gas UK said the potential change would be "huge and wholly unexpected".
A Treasury spokesman said no decision had been made on the changes to APD.
He said the government recognised there may be social or economic reasons for exempting some flights from the proposed tax, and would welcome views on the issue.