Royal Marines used to help round up Moray wild horses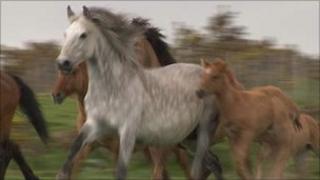 Royal Marines have been drafted in to help round-up dozens of horses which have been breeding out of control on a Moray farm.
A total of 93 semi-feral stallions, mares and foals have been roaming the land, which can no longer support them.
A horse charity said the burgeoning population had put incredible pressure on the farm in Dallas.
If left unchecked, their overgrazing could lead to ferocious competition for food with other animals.
To prevent the horses from becoming potentially serious welfare cases, they are being caught and will be removed from the land.
Royal Marines are using thermal imaging and a plane to scour the terrain to help track them down.
World Horse Welfare is co-ordinating the operation to castrate the stallions, deal with any medical problems and microchip the animals.
The horses are expected to be sold at auction later this year.