Peterculter golfer guilty of hitting tame fox with club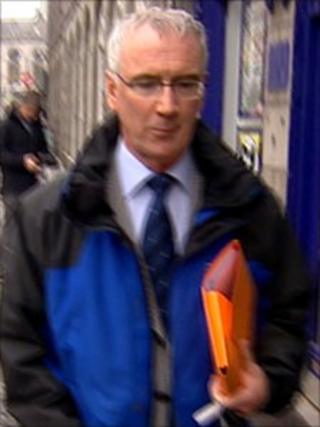 A man has been found guilty of hitting a tame fox - which later died - with a golf club as he played a round.
Donald Forbes denied causing unnecessary suffering by striking the fox with his driver at Peterculter Golf Club, Aberdeen, in September last year.
He went on trial at Aberdeen Sheriff Court under the Wild Mammals (Protection) Act 1996.
Forbes, 55, was found guilty, was fined £750 and was ordered to forfeit the offending club.
Giving evidence, Forbes said he remembered the fox looking back at him in a "threatening way".
He told the court: "I heard that some members had been bitten by the same fox."
He said he felt threatened by the creature and then hit it with a "glancing blow".
He added: "My actions, I thought, were proportionate in relation to the threat it was being to me and my belongings.
"It was an instinctive swing - I happened to have the club in my hand at the time."
Witness Alan Austen said Forbes told him: "I think the guy behind me hit it with a chair."
Mr Austen said the accused later admitted taking a "small swing" at the creature.
He said Forbes claimed to have left the scene after striking it because he did not know what the fox was going to do.
Graeme Duthie, a golfing companion of Forbes, said he saw the accused running towards the fox with the club raised moments before it was injured.
He said: "The fox was biting Donald's bag. Donald ran towards the bag and shouted at it. He hit it with the club in his hand.
"I think he got a shock because it didn't run away after shouting so loudly at it."
Procurator fiscal Sandy Hutchison asked: "How hard would you describe the blow?"
'Pretty alert'
He replied: "I wouldn't have said it was very hard. It was the longest club in the bag. It was nothing like a proper golf shot."
Mr Hutchison asked: "Where did it hit the fox?"
He replied: "I would have thought it was about the head."
Mr Hutchison asked whether the fox moved when he arrived at the scene.
He replied: "It was fairly still. There was a wee bit of movement. It didn't make a sound at all.
"We had a good look at it to see the condition it was in. Its eyes were wide open. It seemed pretty alert to me.
"I thought it was stunned and it would get up and walk away.
"There was no blood whatsoever."
He said the pair waited a couple of minutes before they carried on golfing.
Sheriff Annella Cowan said Forbes had got annoyed and hit the fox with the driver deliberately.
She said: "He used it as a weapon in my view."
Forbes refused to comment as he left court.
Scottish SPCA chief superintendent Mike Flynn said: "This was a brutal and sickening way to treat a wild animal.
"This fox would have suffered a great deal of pain before dying and we are pleased the court has demonstrated that it will not tolerate such cruel behaviour."