Marine atlas maps out Shetland's energy potential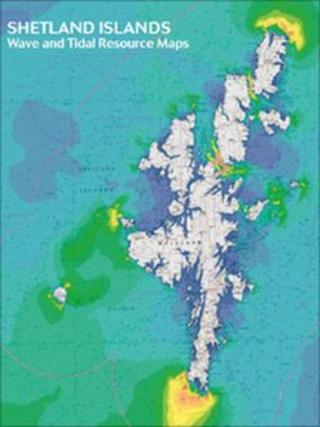 A marine atlas has been created to highlight Shetland's potential as a source of wave and tidal power.
The atlas is based on a major study aimed at promoting the islands as an ideal location for the development of marine renewable energy.
It features resource maps allowing would-be developers to identify the best sites for generating electricity.
The study is to be presented at the UK's largest renewable energy event in Aberdeen next week.
It was commissioned last year by Shetland Islands Council and Highlands and Islands Enterprise (HIE), supported by European funding.
Data and mapping contained in the study will become part of the marine atlas of the Shetland Islands marine spatial plan.
The resource maps cover major tidal energy sites at Bluemull and Yell Sound and wave energy resources available up to 500m off the Shetland coastline.
David Priest of HIE said: "This is a really useful piece of work and fills in a missing gap of information available on the seas around Shetland making it easier for developers to plan.
"It clearly demonstrates where the best wave and tidal energy is and shows how good resources are in and around Shetland waters."
HIE said the atlas would help inform planning decisions in the seas around Shetland and more accurately demonstrate the links and interactions between different economic activities and the priorities of marine users.
The atlas also outlines existing constraints, designations and issues that might arise when applying for planning permission or a marine works licence.
It is designed to help marine energy developers identify the most appropriate locations for future marine energy developments and reducing duplication of work in providing quality information.
The Shetland Islands marine spatial plan is one of four pilot projects under the umbrella of the Scottish Sustainable Marine Environment Initiative (SSMEI) initiated by the Scottish government to inform future marine policy.
The study, which was undertaken by specialist technical consultancy Natural Power, will be promoted next week at the All-Energy Exhibition and Conference in Aberdeen.
The event will feature more than 570 exhibitors from 20 countries, who specialise in all forms of clean and renewable energy.
Josie Simpson, chairman of the Shetland Islands development committee, commented: "Shetland has a huge untapped marine energy resource.
"Finding ways to exploit this resource sustainably is very important for Shetland's future prosperity."
Would-be developers are being asked to contact HIE or Shetland Islands Council for copies of the marine atlas.