Fraserburgh 'murder' baby 'could have died naturally'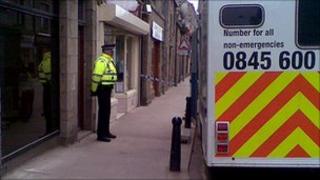 A newborn baby allegedly murdered by his mother in Fraserburgh could possibly have died of natural causes, a court has heard.
Ineta Dzinguviene, 26, denies asphyxiating her son with clear plastic food wrapping on the day he was born.
Pathologist Alan Howatson told the High Court in Livingston it was rare but not unknown for babies to die within days or weeks of birth.
Lithuanian national Ms Dzinguviene denies committing murder in April 2010.
The baby, later named Paulius Dzingus, was found in the Aberdeenshire fishing port's High Street.
Mr Howatson said he had been asked to review a post-mortem examination report on the dead baby.
He confirmed that the body was that of a healthy, full-term child with no developmental abnormality.
Mr Howatson said that the post-mortem examination findings did not provide definitive evidence of unnatural death.
However advocate depute Dorothy Bain QC, prosecuting, asked if a typical death report involved a concealed pregnancy, the baby being found in a rubbish area, and no alarm raised.
He replied "No".
The trial, before judge John Beckett QC, continues.