Aberdeen City Council's Tullos deer cull set to proceed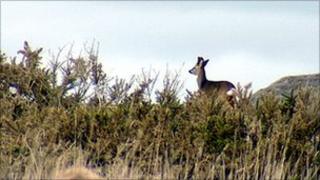 A controversial deer cull in Aberdeen is set to go ahead.
Thirty animals face being killed at Tullos Hill, as the local authority tries to protect new trees being planted.
Campaigners had said the planting should be postponed rather than a cull being carried out.
The council earlier said more than £200,000 was needed to prevent deer being culled, but only £51 has been pledged so far.
The money was needed to pay for fencing, which the council said it could not afford.
Aberdeen City Council's housing and environment committee meeting discussed the control measure at Tullos Hill, in the south of the city, on Tuesday.