Petition criticises deer cull at Aberdeen's Tullos Hill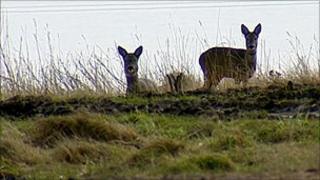 A petition aimed at preventing a cull of deer in Aberdeen has been handed to the city council by campaigners.
Thirty animals could be killed at Tullos Hill as the local authority looks to protect new trees being planted in the area.
Councillors meet on Tuesday to decide whether to press ahead with the control measure.
The charity Animal Concern has said the tree-planting should be postponed rather than a cull being carried out.
Campaigner Jeanette Wiseman said: "We hope that the housing and environment committee will stop this needless slaughter.
"There is still time for an 11th hour reprieve for the deer on Tullos Hill. Aberdeen City Council can stop this shameful act."
The council earlier said more than £200,000 needed to be raised by campaigners to prevent deer being culled.
The money would pay for fencing, which the council cannot afford.