Major SNP election success in north east of Scotland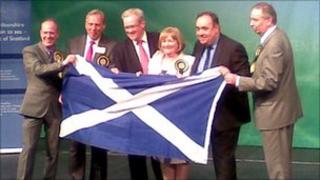 The SNP has won all of the constituency seats in the north east of Scotland, taking the scalps of long-serving MSPs from other parties.
Party leader Alex Salmond led the way with victory in Aberdeenshire East.
Kevin Stewart beat long-serving Labour MSP Lewis Macdonald in Aberdeen Central.
The SNP won all the first-past-the-post seats in the north east and also picked up one other seat by amassing more than 140,000 regional list votes.
Maureen Watt took Aberdeenshire South and North Kincardine, and Dennis Robertson won Aberdeenshire West, defeating Lib Dem Mike Rumbles.
Brian Adam substantially increased his majority in Aberdeen Donside.
The SNP also had success in Moray where Richard Lochhead was re-elected.
The Stonehaven area is now part of Angus North and Mearns, which was won by the SNP's Nigel Don.
The redrawn seat of Banffshire and Buchan Coast was also taken by the SNP, with Stewart Stevenson winning.
In Shetland, Lib Dem party leader Tavish Scott held his seat.
And in Orkney, the Lib Dem candidate Liam McArthur was re-elected.
Unexpected win
The North East Scotland regional list result was three for Labour, two for the Conservatives, one for the Lib Dems, and another one for the SNP.
Labour's three were Richard Baker, Jenny Marra and Lewis Macdonald, the two Conservatives were Nanette Milne and Alex Johnstone, for the Lib Dems it was Alison McInnes, and for the SNP it was Mark McDonald.
Mr McDonald was fifth on the SNP list, and turned up for the count wearing jeans and a t-shirt as he had not expected to be elected.
Mr Salmond - who held Aberdeenshire East with a 15,295 majority and 64.5% of the vote following a 19.5% swing to the SNP from the Lib Dems - said: "We have reached out to every community across this country."
Aberdeen city councillor Kevin Stewart caused one of the night's big shocks by defeating Labour's Lewis Macdonald by 617 votes.
Maureen Watt took Aberdeenshire South and North Kincardine from the Lib Dems, which previously held it as Aberdeen South.
Their candidate John Sleigh - replacing former party leader Nicol Stephen - slumped to third place behind Labour's Greg Williams.
Long-serving Lib Dem Mike Rumbles saw a collapse in his support as Dennis Robertson took Aberdeenshire West.
Mr Robertson dedicated his campaign to his daughter who died earlier this year.