Fraserburgh 'murder' baby 'died of suffocation'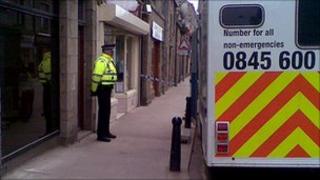 A newborn baby whose corpse was found in a holdall in Fraserburgh died of suffocation, a murder trial has heard.
Ineta Dzinguviene, 26, a Lithuanian national, denies asphyxiating her son with clear plastic food wrapping on the day he was born.
Forensic pathologist Dr James Grieve told the High Court in Livingston his opinion was the cause of death was "asphyxia".
He added: "A child less than a day old cannot fight back."
Ms Dzinguviene is alleged to have murdered the baby, later named Paulius Dzingus, in the Aberdeenshire fishing port's High Street on 12 April last year.
Dr Grieve carried out a post mortem on Paulius two days after the alleged murder.
He told the jury that he found there was nothing "abnormal" about the baby during tests.
Dr Grieve said: "As a result of our post mortem we are of the opinion the baby died of asphyxia".
He then identified in court, cling film which he found in the holdall where the baby was found.
'Hold it there'
Advocate depute Dorothy Bain QC, prosecuting, asked: "If you were to put a piece of that over a baby's nose or mouth for a period of time would it prove difficult to breath?"
Dr Grieve replied: "Yes. Absolutely. It's very difficult to get off and we cannot breath through this sort of material. With this over someone's mouth for a period of time there is going to be asphyxia or smothering."
He read further from the report and said there was "nothing in the history of the baby's delivery which would suggest he would not survive".
Ms Bain asked: "If you were to hold cling film over a baby's nose or mouth how quickly would it suffocate?"
Dr Grieve said: "If you hold it there for two to three minutes it would almost certainly suffocate."
Ms Bain then asked: "Would you require some force holding it on an infant?"
Dr Grieve replied: "No. All you have to do is hold it there. The nature of these substances is they hold them self there, almost. You don't require much force.
"A child less than a day old cannot fight back. You just have to put the substance there."
'Seemed cheerful'
The court also heard from Grampian Police Sgt Steven McEwan who found Ms Dzinguviene the day after the alleged murder.
He said he found her sitting on a bench in Peterhead, after being told she might be in the area.
He said: "She seemed cheerful and was smiling. She didn't seemed distressed in anyway."
She agreed to go to Aberdeen Maternity Hospital to be assessed.
Pc Lesley Carmichael, who went with her, said Ms Dzinguviene was asked by a hospital midwife if she had given birth to a baby.
Ms Dzinguviene replied that her husband had said she was a bad mother and that she'd killed her baby - but she insisted she had not given birth.
Pc Carmichael said she became "weepy" and began crying.
Local doctor Peter Duffus assessed Ms Dzinguviene's mental and physical state the next day and also said she was "weepy".
In his final report he wrote: "It was my opinion that she was fit to be detained overnight and was fit to attend court the next day. She would require psychiatric assessment in due course."
The trial continues.