Malcolm Webster case: A Hollywood-style script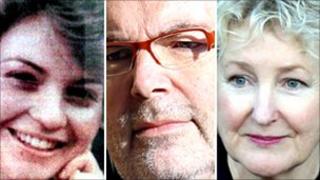 Hollywood script writers would have been proud of the twisting, almost unbelievable plot.
Malcolm Webster's first wife Claire Morris died when their car crashed and caught fire in May 1994.
The death of the 32-year-old - married for just eight months - on an Aberdeenshire road was investigated and treated as a tragic accident.
Her husband survived, and went on to marry Felicity Drumm in 1997.
In 1999, the couple were involved in a car crash in New Zealand, with Webster again at the wheel.
Ms Drumm would discover Webster had cheated her out of her life savings.
It would set in motion a police inquiry spanning the globe, as more questions were posed about what exactly had happened in both cases.
However it would be a chance meeting in 2006 that would offer a pivotal breakthrough, when a relative of Webster's surviving wife mentioned details of the case to a police officer at a conference.
It ended with the husband of the two women standing trial in February this year at the High Court in Glasgow accused of murder and attempted murder, to gain financial reward through their life assurance.
He was also accused of intending to bigamously marry a third woman, Simone Banarjee, to gain access to her estate.
It would become the longest single-accused criminal trial in Scotland.
Webster married Claire Morris in Aberdeen in 1993.
In May the following year their Daihatsu 4x4 left the Oldmeldrum to Auchenhuive road, crashed into a tree, and caught fire.
Webster escaped but his wife died.
He said he had swerved to avoid a motorcycle, and the official conclusion at the time was that it was an accident.
Webster received a large life insurance payout, and soon started spending it, including buying a yacht.
In 1997, Webster married again, wedding Felicity Drumm in New Zealand.
However, in February 1999 he deliberately crashed their car in Auckland while they were on their way to a bank meeting.
As well as learning Webster had cheated her out of her life savings, she also raised concerns about health problems she had been having, and feared her husband may have been spiking her food.
Webster later failed to appear in court on a number of charges.
In 2004, back in Scotland, Webster met nurse Simone Banarjee at a hospital in Oban, Argyll, where they both worked. They became a couple and were later engaged.
He said he had leukaemia, and shaved his hair and eyebrows.
In 2006, Felicity Drumm's sister Jane was in the UK on business and happened to speak to a police officer about what had happened in New Zealand and also what happened to Claire Morris.
Forensic techniques
The officer contacted Grampian Police, and force was able to refocus a fresh inquiry into Webster's first wife's death, using new forensic techniques.
These revealed trace evidence in her liver tissue of drugs which she did not have a prescription for.
In January 2008, Ms Banarjee was left shocked when she was warned by police about allegations concerning her fiance's past in Scotland and New Zealand.
And she also learned he did not have cancer and was, in fact, in good health.
In March 2008, Grampian Police announced they were re-examining the fatal crash in which Webster's first wife died in 1994.
And it was followed by news that Webster was also being sought by police in New Zealand.
In February 2009, Webster appeared in court in Aberdeen charged with murdering his wife, and a week later was also charged in connection with his second wife in New Zealand.
Just under two years later, and 17 years after Claire Morris died, he went on trial.
The jury would eventually have the final say on how the story would end.
Derek McDonald, a former sub officer with Grampian Fire Brigade, was in charge of the specialist rescue unit called out to the 1994 fatality.
Mr McDonald, who was called to give evidence during the trial, told BBC Scotland of damage to the 4x4: "I could not see any, and this was very suspicious.
"We all thought it was a bit hooky, there was no sign of violence to the vehicle.
"For a car to be stopped or parked and burst into flames does not occur - not unless it's in the movies."
He added: "We thought we were all singing from the same hymn sheet, but apparently not."
'Chilling disposition'
The senior investigating officer for Grampian Police was Det Ch Insp Phil Chapman.
He told BBC Scotland: "It was very clear that Malcolm's motivation was money and his insatiable appetite for wealth."
The officer said Webster would spend large amounts within weeks of receiving money, such as the life insurance, as well as using credit cards to fund a lifestyle well beyond his means.
Webster - described as a "happy, charming individual" - would also "lavish" other women with gifts.
However, under the veneer was a "chilling disposition".
Asked about the original view that the 1994 fatal crash was an accident, Det Ch Insp Chapman said: "Hindsight's a great thing."
He explained: "All reasonable lines of inquiry were pursued at that time."
Asked if Webster should have been brought to justice earlier, he said the force would look back to see if any lessons could be learned.