Parade marks RAF Lossiemouth Tornado disbandment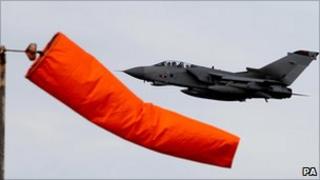 Members of an RAF Lossiemouth Tornado squadron which is being lost amid defence spending cuts have performed their disbandment parade.
The Ministry of Defence previously announced the Moray base's 14 Squadron, and XIII Squadron from Marham in Norfolk, are being disbanded.
The Lossiemouth personnel have been involved in the conflicts in Afghanistan and Libya.
The disbandment comes amid fears for the future of RAF Lossiemouth.
A decision on the base, and that of RAF Leuchars in Fife, is expected from the MoD after the Holyrood elections.
The armed forces are looking to shed 17,000 posts over the next four years as defence spending is cut.
The airfield at RAF Kinloss will cease to operate after 31 July.