Malcolm Webster trial: Accused 'unlucky', not a 'crook'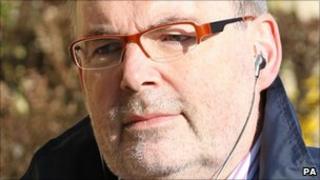 A man accused of murdering his wife for the insurance was unlucky and not very good with money rather than a crook, a court has heard.
Malcolm Webster, 52, of Surrey, denies murdering his first wife Claire Morris in Aberdeenshire in 1994.
He also denies crashing a car in a bid to kill his second wife in New Zealand.
His twin sister Caroline Walters told the High Court in Glasgow that Mr Webster had lost all his money.
Mrs Walters told the court her brother claimed he lost it all after investing offshore in the Cayman Islands.
She said she told her brother he must have been "one of the unluckiest people in the world" after Mr Webster told her about a fire at the home of his second wife Felicity Drumm's parents in Auckland.
This followed a fire at the home Mr Webster shared with Ms Drumm in Aberdeenshire.
Advocate depute Derek Ogg QC said: "Or he's a crook".
'Worshipped her'
Mrs Walters responded: "I wouldn't say that, just not very good with money."
Speaking of Mr Webster's first wife Claire Morris, Mrs Walters described her as "lovely, genuine, a kind person, very bubbly and very easy to get on with".
She added: "They were very much in love. She worshipped him and he worshipped her."
Mr Webster, from Guildford, also denies intending to bigamously marry Simone Banarjee, from Oban, Argyll, to gain access to her estate.
Mrs Walters told the court how Mr Webster said he had leukaemia while he was living with Ms Banarjee.
She told the jury that on one occasion he turned up at her home in the south of England wearing a hat and when he took it off his head was shaved and so were his eyebrows.
The court heard that he kept up the deception until January 2008 when he finally confessed it had been a lie.
Still married
She also told how Mr Webster had bought a share in a yacht with Ms Banarjee and that she thought they were trying for a child.
Mrs Walter added: "Simone said 'He's not a murderer. We have been on the yacht many times. If he wanted to finish me off he had plenty of opportunity'."
Mr Ogg then asked if she knew Mr Webster had become engaged to Ms Banarjee and she said: "No. I knew he was very, very fond of her. I just assumed having had two marriages he wouldn't necessarily marry again. I knew Simone wanted a baby and I know they were trying for a baby."
Mr Ogg said: "You knew he was still married to Felicity Drumm?". Mrs Walters replied: "I had an inkling that Simone might not know. I'd hoped that Malcolm would have told her."
The trial continues.