Aberdeen-built tall ship on International Space Station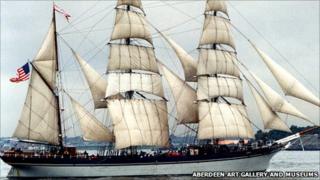 Part of a tall ship built in Aberdeen in 1877 is on board the International Space Station.
Elissa, which became the official tall ship of Texas, was built 134 years ago by Alexander Hall and Co.
Volunteers at the Galveston Historical Foundation in Texas asked astronaut Catherine Coleman, a friend of theirs, to take the memento - some deck - into space.
Aberdeen Maritime Museum said it was "special" to have an Aberdeen-built ship in space.
The astronaut - known as Cady - also took a postcard with some details of Elissa's history on it when a Russian Soyuz spacecraft docked with the orbiting laboratory.
The docking took place 220 miles (355km) above West Africa.
The astronaut is set to return home in May, but the section of Elissa's deck will remain on board the space station.
Meredith Greiling, curator of maritime history at Aberdeen Maritime Museum, said: "It is very special to have an Aberdeen ship preserved in space like this.
"I don't know of any other ships honoured in this way."