Malcolm Webster murder trial: Christmas video concerns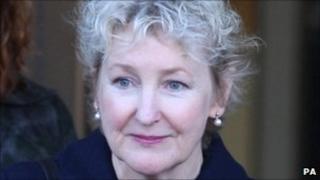 The sister-in-law of a man accused of trying to kill his wife has told of her concern after seeing a family Christmas video.
Malcolm Webster denies crashing a car in New Zealand in 1999 in a bid to kill Felicity Drumm, his second wife, to claim insurance money.
He also denies murdering his first wife in Aberdeenshire in 1994 in a car fire.
Kathleen Drumm told the High Court in Glasgow the 1998 video seemed "sad and mournful".
Mr Webster, 51, of Guildford, Surrey, denies attempting to kill Ms Drumm and fraudulently obtain £750,000 from insurance policies.
He further denies murdering his first wife, 32-year-old Claire Morris. She died when the vehicle in which she was a passenger crashed and caught fire.
It is also alleged that he intended to bigamously marry Simone Banarjee, from Oban, Argyll, to gain access to her estate.
Ms Drumm's sister said she bought the camcorder from her sister when she was short of money after Mr Webster left her in New Zealand and went back to the UK.
She said that when she looked at the video camera she found a film of the Drumm family Christmas in 1998.
She told advocate depute Derek Ogg QC: "It appeared to be like a little film."
Ms Drumm was then asked her what concerned her about the footage and she said: "This was my family on a joyous day and the music appeared to be quite sad and mournful.
"It was the type of film that might be played at someone's funeral."
Mr Ogg asked: "Did anyone have any knowledge how that music came to be on the film?"
She replied: "No."
Earlier, Ms Drumm told the court she was worried about her sister after issues with her health.
'Funny turns'
She said: "Felicity was being supported through the door by Malcolm. She could hardly speak. She was trying to say something and she was distressed. She was distressed we were seeing her like that.
"Malcolm said something like she's having one of her funny turns or one of her episodes and Felicity just said 'I have to lie down'."
The jury was told that Ms Drumm also had a conversation with Mr Webster about his wife.
She said: "He told me he was greatly concerned about Felicity's mental health. He said it was his belief she was suffering some sort of profound depression. I was very worried to hear that."
Another sister, Jane Drumm, said Felicity Drumm had told her she sometimes thought that Mr Webster was drugging her.
She said: "I said to her: 'Felicity you can't think something like that or your marriage is over'."
Felicity Drumm's brother-in-law, David Pointon, told the court that hours after a car crash on 12 February, 1999, involving Ms Drumm and Mr Webster, he and his wife visited the pound where the Honda Accord involved had been taken.
He told the court he saw a patrol can in the boot and a disposable plastic cigarette lighter in the centre console between the front seats.
Mr Pointon said he thought the lighter was unusual as neither Mr Webster nor Ms Drumm smoked and added: "It seemed a strange thing to have in a concealed yet convenient space."
Under cross-examination by defence counsel Edgar Prais QC, Mr Pointon admitted he did not know who the lighter belonged to or whether it even worked.
He also said he did not know if the petrol can contained petrol.
The trial, before judge Lord Bannatyne, continues.