Mar Lodge deer policy: NTS review to be carried out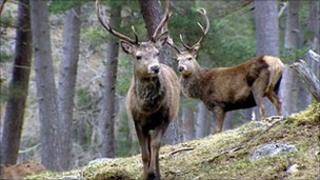 An independent review into the controversial deer management policy at the Mar Lodge Estate near Braemar is to be carried out.
The National Trust for Scotland (NTS) has owned the 72,000-acre (29,137-hectare) property since 1995.
The NTS said it is to set up an independent, evidence-based review into woodland, moorland and deer management.
Concern has been expressed by some gamekeepers and locals about the number of deer being culled.
The review will assess the trust's overall objectives for the estate, specifically fencing policy, deer culling, and the regeneration of the native Caledonian forest.
The review is expected to last three months.