Budget fuel move 'to costs North Sea industry £2bn'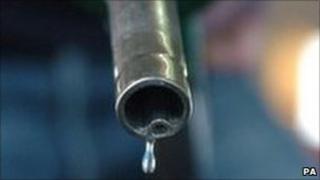 A new "fair fuel stabiliser" is expected to cost North Sea oil producers about £2bn.
Chancellor George Osborne is raising taxes on oil production to pay for a reduction in petrol and diesel costs for motorists.
He said the move would tackle the high cost of living and oil, as he announced his budget in the Commons.
However, industry body Oil and Gas UK, said it would have a damaging effect on investment and jobs.
Mr Osborne announced in the Budget a 1p per litre cut in fuel duty in response to a recent surge in global oil prices, effective from 1800 GMT.
He also said he would cancel a fuel duty escalator, while an inflation-linked rise in the fuel duty planned for next week was delayed until next year.
The chancellor said the price of oil had risen 35% in five months, resulting in oil companies making "unexpected profits".
He said that, if the the oil price sustained a fall below $75, the government would reintroduce the escalator and reduce the new oil tax in proportion.
Malcolm Webb, chief executive of Oil and Gas UK, said: "This change in the tax regime will decrease investment, increase imports and drive UK jobs to other areas of the world."
'Encourage development'
Bob Collier, chief executive of Aberdeen and Grampian Chamber of Commerce, said: "There are a number of initiatives in this budget which will be beneficial to many of our members including reduced fuel prices.
"However the government's announcement that it is going to increase taxation on the oil and gas sector, which operates in a globally competitive market, is a short-sighted and potentially very damaging approach.
"Businesses working in the North Sea are already among the most highly-taxed in the country and rather than increasing that, government should be looking to reduce that tax burden to encourage development of new, smaller fields and continued production of mature, depleted fields."
Britain's offshore oil and gas industry is enjoying a sustained boom in investment and job creation, according to the sector's annual business survey last month.
Oil and Gas UK said the rate of decline in production from UK waters would be halved over the next five years.