North Sea sector: Chancellor George Osborne could help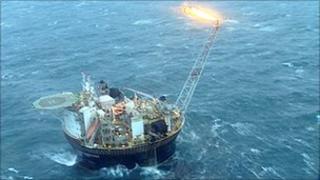 The chancellor has hinted he may be prepared to consider tax changes for the North Sea oil and gas industry.
On the eve of Budget day, George Osborne told MPs that he wanted to help "prolong the life of the North Sea fields".
He was urged, during Treasury questions, to help maximise investment in the oil and gas sector.
Mr Osborne said he would work with the industry over decommissioning costs and taxes.
The Budget will be revealed on Wednesday.
Britain's offshore oil and gas industry is enjoying a sustained boom in investment and job creation, according to the sector's annual business survey last month.
Oil and Gas UK said the rate of decline in production from UK waters would be halved over the next five years.