Aberdeen plan delays 'constrain' economy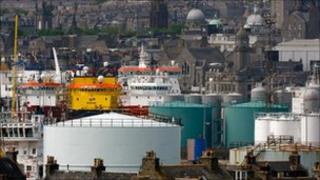 A leading oil businessman has told the BBC planning delays are placing constraints on the Aberdeen economy.
Bob Keiller got clearance recently for the sale to Wood Group of PSN, the company he built up to a value of more than £600m.
He is staying with the Wood Group after the deal and is also chairman of Scotland's Entrepreneurial Exchange.
He told Business Scotland he was concerned objectors to any development had a "disproportionate voice".
He said there was significant interest at the moment in economic expansion in the north east of Scotland.
"The oil price being relatively high means that people are willing to invest in the development of existing and new oil and gas resources," he said.
"When people invest in these resources it leads to activity, activity in turn leads to jobs and many of these jobs are based and supported here from Aberdeen.
"That's not just jobs here in the UK, of course, that's jobs internationally."
He said it meant there was a "relative health" in the economy not seen in other parts of the country.
"Certainly the income, the economic benefit of oil and gas has a great benefit for the whole of the north east economy and beyond," he said.
'Continued frustration'
However, Mr Keiller said there were other steps which could be taken which would increase the growth of the economy.
"I don't think it's quite booming yet but its confidence is improving, people are being more optimistic," he said.
"There are still things that could happen that could lead to even greater confidence."
He said there was "continued frustration" in the business community about the fact that work had not started on a Western Peripheral Road around Aberdeen.
He also urged quicker action over a runway extension at Aberdeen airport and city centre improvements.
"I think the process we have set up over the years, to my mind, gives a disproportionate voice to objectors to any developments," he said.
"In a democracy everybody has the right to object or support a development.
"But once a decision has been made I'd love to see, as a businessman, a project plan being put in place, a budget being put in place and people just getting on with it."
He said that would help to attract even more people to live and work in Aberdeen.