'Bite death' puppy and dog dumped in Aberdeenshire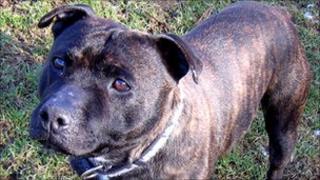 A puppy which had been bitten to death by a dog was dumped in a lay-by in Aberdeenshire, the Scottish SPCA has said.
The dead puppy, which was a few weeks old, was dumped near Portsoy along with a healthy Staffordshire bull terrier-type dog.
The animal charity said the puppy had died a "painful" death.
Earlier this week it was revealed the death of another dog in Aberdeenshire may be linked to a dog-fighting ring.
The charity said it was keeping an "open mind" on whether the incidents could be linked.
A member of the public spotted the latest two dogs near the B9025.
Scottish SPCA senior inspector Lesley Crockett said: "The puppy had been put in a carrier bag and a post-mortem revealed that it had died from a dog bite wound.
"The adult dog that was also abandoned is approximately three to four years old.
"It took us a week to rescue him as he was so frightened he wouldn't come near anyone, but he stayed in the same area.
"When we finally caught him he was very nervous but he has now come out of his shell and is a good-natured, friendly dog."
She said it was likely that both dogs were abandoned together.
"However, it is a very strange case as one was in good condition and the other dead.
"Whoever dumped these dogs clearly didn't care about their welfare as the puppy obviously suffered a painful death. The adult dog could have easily been hit by a car and he was very stressed by the whole ordeal.
"We would urge anyone with information to call our animal helpline to help us identify who these dogs belonged to."
The dog is now being cared for at the charity's animal rescue and rehoming centre in Inverness, where staff have named him Tyson.
Earlier, a male bull terrier-type dog was found by a member of the public in a lay-by close to New Deer.
The Scottish SPCA said the dog had been killed by a "blunt trauma", possibly to hide evidence.
Anyone with information on either case can call the Scottish SPCA animal helpline on 03000 999 999.