New Aberdeen FC stadium 'not being called in'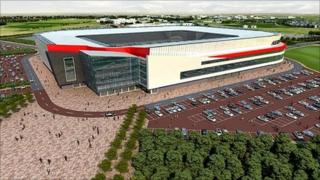 Plans for Aberdeen FC's new stadium have taken a major step forward after Scottish ministers decided against calling in the proposals.
Councillors earlier approved the £38m stadium, capable of holding about 21,000 fans, at Loirston Loch in the south of Aberdeen.
It was within the rights of the Scottish government to have its own officials look over the plans.
The club can now move forward with its plans to fund the ground.
Aberdeen FC intends to sell its current home at Pittodrie for housing.
Red glow
The new stadium project was subject to 140 objections from local communities and groups concerned about the environmental impact of the stadium.
Planners had previously recommended approval.
Councillors heard a report saying the stadium would be an iconic landmark and an important gateway to Aberdeen.
The stadium plans include a gym, a club shop, museum and cafe, and the whole facility would be lit at night by a red glow.
The planning application followed a public consultation.