Drug traces 'found' in crash victim's body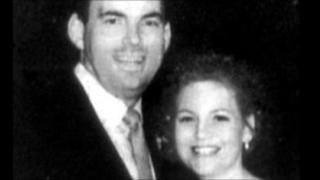 A wife allegedly drugged and then killed in a crash by her husband may have had traces of a sedative in her body, a murder trial has heard.
Malcolm Webster, 51, denies killing his first wife Claire Morris, 32, in 1994 by intentionally crashing their car in Aberdeenshire and setting it on fire.
Pathologist Dr James Grieve told the High Court in Glasgow her liver was tested in 2007.
He said that the probability was 92.4% a substance found was temazepam.
Mr Webster, from Guildford in Surrey, is accused of killing his first wife by drugging her, crashing their car and setting it alight.
He also denies fraudulently obtaining more than £200,000 after cashing in insurance policies following Ms Morris's death.
He is also charged with deliberately crashing his car in Auckland, New Zealand, in February 1999 in a bid to kill his second wife, Felicity Drumm, who was a passenger.
It is also alleged that he intended to bigamously marry Simone Banarjee, from Oban, Argyll, to gain access to her estate.
It is claimed he told her he was terminally ill with leukaemia when he was actually in good health.
Further attempt
The court heard Dr Grieve used a new technique to check Ms Morris's liver.
Advocate depute Derek Ogg QC, prosecuting, asked: "The first test did not confirm absolutely the presence of temazepam?"
Dr Grieve replied: "It showed a substance which the machine said had 92% possibility of being temazepam as opposed to anything else."
Mr Ogg asked: "In 2008 or 2009 was a further attempt made to see if the experiment could be repeated on a smaller piece of material from the liver?"
He replied: "We took a smaller piece of the liver about half the size of the original piece. On this occasion we found nothing."
'Possible' match
Toxicologist Dr Duncan Stephen told the court that part of Ms Morris's liver tissue was used because the liver is considered a primary site of drug metabolism in the body.
He told the court that normally he worked with 1g (0.04oz) of liver, but in this case was using one thousandth of that.
Dr Stephen, who is based at Aberdeen Royal Infirmary, said that one of the problems he faced was that chloroform was used in 1994 to wash the liver.
In his report Dr Stephen said a significant amount of temazepam would have been dissolved out in the process.
Under cross-examination Dr Stephen confirmed the finding of 92.4% match probability after two washes was a "possible" result of temazepam, not a "positive" result.
The trial, before Lord Bannatyne, continues.