Death crash woman 'died in fire from carbon monoxide'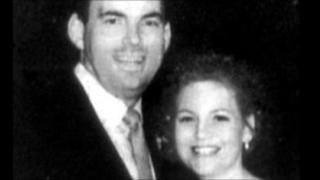 A woman alleged to have been murdered in a road crash died from carbon monoxide poisoning in a burning car, a pathologist has said.
Dr James Grieve said he found the high gas levels after carrying out the post-mortem examination on Claire Morris.
Malcolm Webster, 51, denies killing his first wife, Claire Morris, 32, in 1994, by intentionally crashing their car in Aberdeenshire and setting it on fire.
Dr Grieve will continue giving evidence on Tuesday.
Mr Webster, from Guildford in Surrey, is accused of killing his first wife by drugging her, crashing their car and setting it alight.
He also denies fraudulently obtaining more than £200,000 after cashing in insurance policies following Ms Morris's death.
He is also charged with deliberately crashing his car in Auckland, New Zealand, in February 1999 in a bid to kill his second wife, Felicity Drumm, who was a passenger.
It is also alleged that he intended to bigamously marry Simone Banarjee, from Oban, Argyll, to gain access to her estate.
It is claimed he told her he was terminally ill with leukaemia when he was actually in good health.
The High Court in Glasgow heard that Dr Grieve carried out the examination on Claire Morris on 31 May, 1994, in Aberdeen.
He said there had been a lethal dose of carbon monoxide in her blood and added: "It would tend to suggest there had been a breath taken after the fire started."
Dr Grieve added: "The levels of CO are remarkably high for a fire."
The jury was told that toxicology tests were carried out which revealed lethal levels of carbon monoxide. The tests also showed no trace of alcohol in Claire Morris's blood.
Dr Grieve told the court that he found no injuries consistent with a high speed crash, but the jury heard that her body had been extensively damaged in the fire.
The pathologist's conclusion was that Claire Morris died as a front seat passenger as a result of a fire and she was alive when the fire started. The court will hear further evidence from him on Tuesday.
Earlier, fireman Albert Marr told the court he had attended the crash and was told that Mr Webster had gone off the road to avoid a speeding motorcyclist on the wrong side of the road.
He said firefighters had searched woods near the blaze but did not find anything.
A traffic policeman also told the court that after going to senior officers to voice concerns about the crash in 1994 he was telephoned and told a line was to be drawn under the case.
David Allan, then a sergeant, said: "I was told to move on and tell my colleagues to do so as well."
The trial, before Lord Bannatyne, continues.