Aberdeen Harbour ships collision caught on camera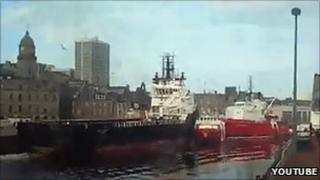 Footage has been captured of a multimillion-pound offshore vessel being involved a three-ship collision at Aberdeen Harbour.
The SBS Typhoon collided with VOS Scout head-on and forced her into the Ocean Searcher.
SBS Typhoon's owners, SBS Marine, said the accident was caused by a software fault.
The video has been posted on YouTube by an onlooker and has been viewed thousands of times.
SBS Marine managing director Nigel Taylor said the accident happened as a result of a glitch in fitting new, high-tech equipment.
He said: "We were in the process of installing a new dynamic positioning system.
"We were doing checks on the system and had to have the engine running. There was a fault in the software. The controls were fully manned at the time, as were the other two vessels.
"No one was hurt. There was some damage caused to our ship and to the VOS Scout and minor damage to the Ocean Searcher.
"Damage was caused to the bow of our vessel but all three vessels remained water tight."
He added that the YouTube footage appeared to be speeded up.
The incident happened on 26 February.
An Aberdeen Harbour spokeswoman said: "The incident was reported to the Marine Accident Investigation Branch and investigations are ongoing."