Fireman 'was suspicious of Malcolm Webster wife crash'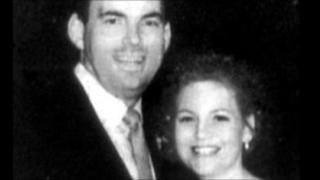 A former fireman has told the trial of a man accused of murdering his wife he was "extremely suspicious" of the crash in which she died.
Malcolm Webster denies killing Claire Morris in 1994 by drugging her, crashing their car and setting it alight in Aberdeenshire.
Derek McDonald told the High Court in Glasgow he went to the crash scene.
He said he found no skid marks or debris, and minimal damage to the vehicle.
Mr Webster, from Guildford in Surrey, is accused of fraudulently obtaining more than £200,000 after cashing in insurance policies following the death of his first wife, Ms Morris, who was from Oldmeldrum.
He is further charged with deliberately crashing his car in Auckland, New Zealand, in February 1999 in a bid to kill his second wife, Felicity Drumm, who was a passenger.
It is also alleged he intended to bigamously marry Simone Banarjee, from Oban, Argyll, to gain access to her estate.
It is claimed he told her he was terminally ill with leukaemia when he was actually in good health.
Mr McDonald, 61, said that he had gone to the crash scene with cutting equipment, but was stood down and told to stand-by.
Advocate depute Derek Ogg QC, prosecuting, said: "Did you hear the driver escaped unscathed?"
He replied: "Yes".
Mr Ogg said: "Putting these things together, the driver escaping unscathed, and the car did not have much damage, did you come to any conclusion?"
Mr McDonald replied: "Definitely, I was extremely suspicious."
'Pretty calm'
Mr McDonald told Mr Ogg that he was not interviewed by any police officers about the crash in 1994.
Under cross examination by defence counsel Edgar Prais QC, Mr McDonald agreed he had not made any official approach to any of his bosses about any concerns.
Earlier, retained fireman Ian Reid said of Mr Webster at the scene: "I couldn't understand how someone was so cool if he had just lost his wife in a car crash. He was pretty calm."
Mr Ogg asked Mr Reid: "You thought that was odd?"
He replied: "I didn't think it was quite right."
Mr Reid was then asked if he had any concerns and replied: "Yes, I still think why didn't the person who was there not pull the person out the vehicle."
The trial continues.