Triple death crash 'inevitable' after skid, probe hears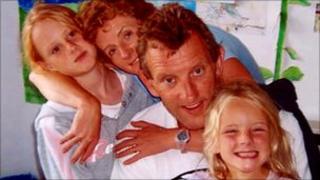 A rally driver would have struggled to control a skid which saw a mother and her two children crash and die, an inquiry has been told.
Ann Copeland, 45, and daughters Ciara, seven, and Niamh, 10, from Johnshaven, died in the crash on the A92 in Aberdeenshire in January 2008.
Witness Colin McLachlan told a fatal accident inquiry his collision with their car was "inevitable".
He said the Copelands could have been going as slow as 35mph.
Mr McLachlan, 63, told the FAI at Stonehaven Sheriff Court: "It appeared to me a dramatic and sudden loss of control, consistent with hitting a patch of oil. It was all very quick.
"Even a top rally driver would not have been able to do anything with that skid. I don't think there was avoiding action that would have been effective.
"The impact was so intense that the back end felt like it was coming up."
He also told the inquiry a fire crew arriving at the scene of the fatal crash had slid slightly on the same bend.
The inquiry, which began on Monday, continues.