Malcolm Webster 'watched London's Burning' before crash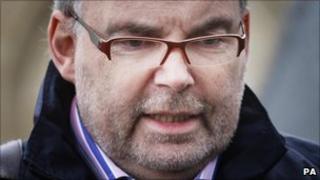 A man accused of murdering his wife by setting their car on fire after a crash watched TV show London's Burning just before the journey, a trial has heard.
Malcolm Webster denies killing Claire Morris in 1994 by drugging her, crashing their car and setting it alight in Aberdeenshire.
Sgt Colin Reid told the High Court in Glasgow he spoke to Mr Webster in hospital after the crash.
He said Mr Webster told him the couple had set off after watching television.
The officer said that Mr Webster gave a witness statement on 28 May, 1994, in Aberdeen Royal Infirmary.
Sgt Reid said Mr Webster claimed he made food, and he and his wife then they watched the TV series about firefighters called London's Burning.
Mr Webster told the officer they set off from the couple's home in Oldmeldrum, Aberdeenshire, to go to Royal Aberdeen Children's Hospital with documents which had to be delivered there that morning, the court heard.
The court was told that Webster said he and his wife left their home and that in the boot of the Diahatsu Sportrak were three cans of petrol, two of which were almost full.
Wrong side
Sgt Reid said he was told that a motorcyclist had come towards the couple on the wrong side of the road, causing Mr Webster to swerve off the road.
He said Mr Webster claimed that if the motorcyclist had stopped they could have got his wife out of the car.
Mr Webster, from Guildford in Surrey, is accused of fraudulently obtaining more than £200,000 after cashing in insurance policies following the death of his first wife, Ms Morris, who was from Oldmeldrum.
He is further charged with deliberately crashing his car in Auckland, New Zealand, in February 1999 in a bid to kill his second wife, Felicity Drumm, who was a passenger.
It is also alleged he intended to bigamously marry Simone Banarjee, from Oban, Argyll, to gain access to her estate.
It is claimed he told her he was terminally ill with leukaemia when he was actually in good health.
The trial continues.